The Best Investment You'll Ever Make.
EquityEffect Investor is the only fully-integrated portfolio and cap table management platform investors will ever need.
Better manage your investments, portfolios and LPs. Say goodbye to sloppy data and enjoy an accurate view of your fund performance.
And as an added bonus: your portfolio companies use our cap table management software free!
Single Source of Truth.
Zero Source of Stress.
With real-time performance tracking of your investments, EquityEffect is your single source of truth across your investment portfolio no matter what cap table software your companies use.
Track performance across funds in one central dashboard.
View investment multiples and different IRRs.
Access real-time numbers pulled directly from your most up-to-date positions, cap tables, waterfalls, and valuations.
Use EquityEffect's managed services for updating and error-checking, and white-glove onboarding of portfolio company cap tables and KPIs.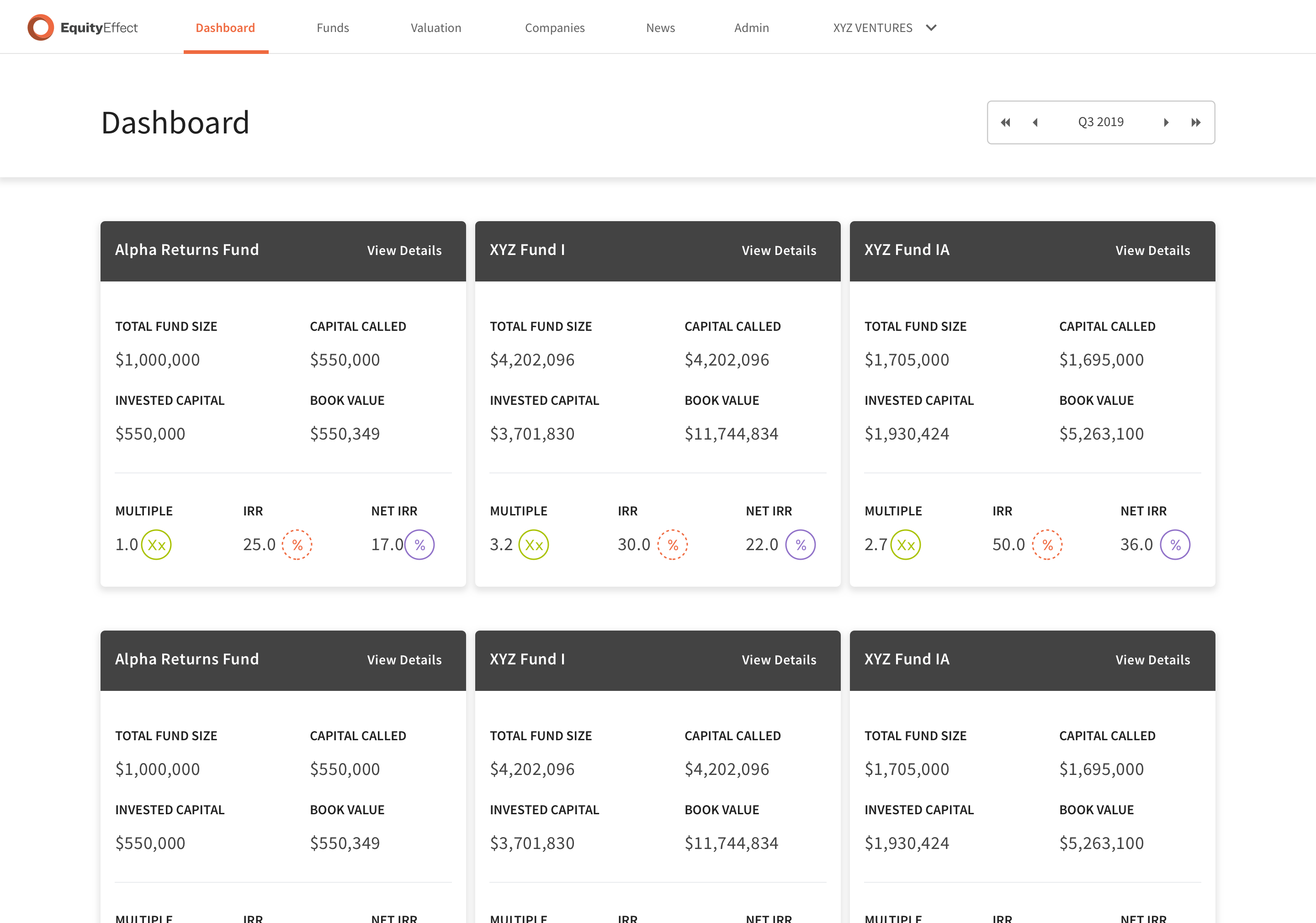 Measure Fund Performance At Every Level
Welcome to the driver's seat. Collect, track and analyze company performance, then easily create reports for internal or external audiences. Chart your performance over time at the security-level, company-level or fund-level.
View comprehensive details on funds, companies and securities in a single dashboard.
Collect and track KPIs from your portfolio companies from investment-to-exit.
Visualize key metrics from different perspectives over time — from investment performance to company performance.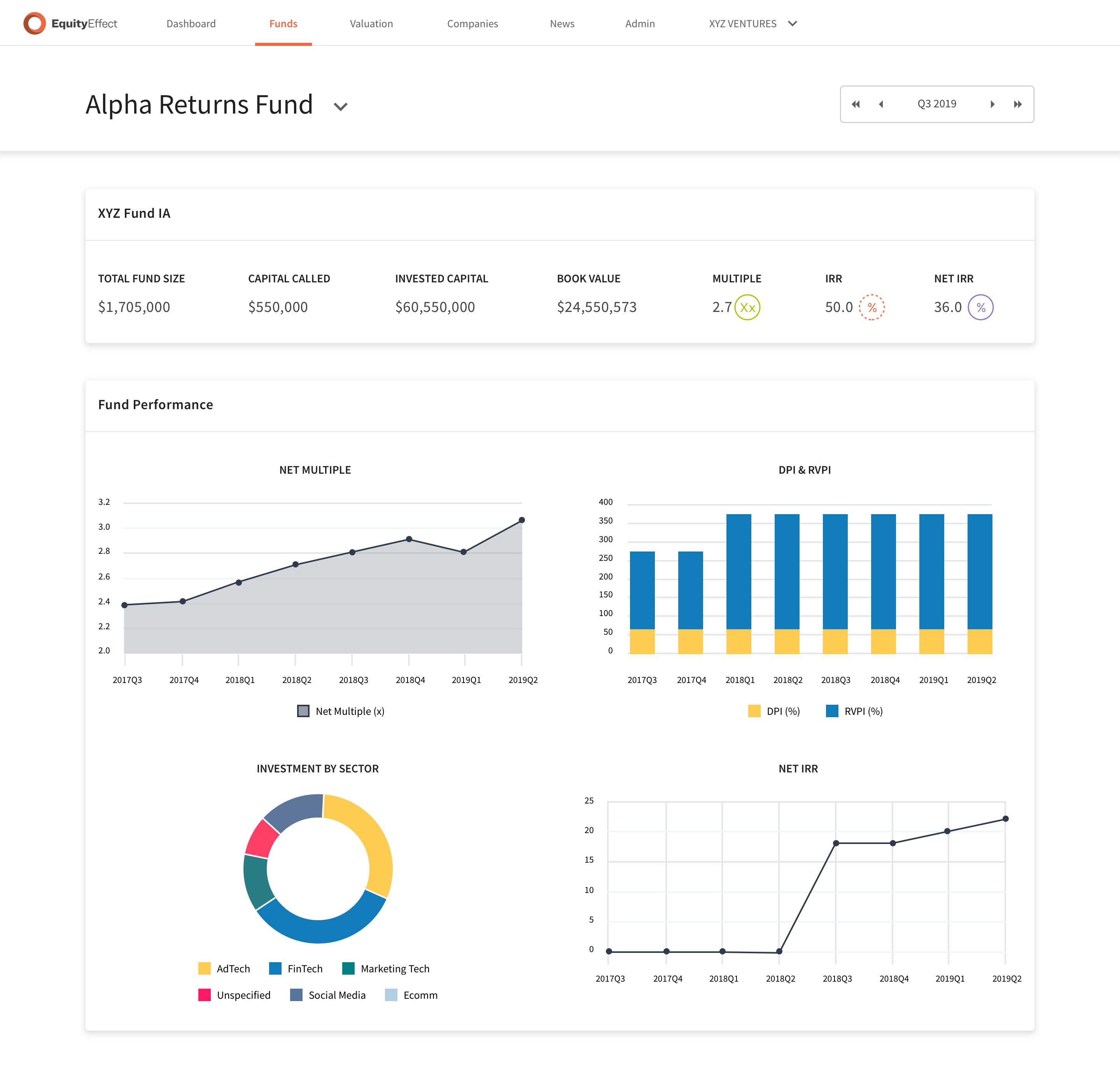 Instant Access to Valuation Tools and Scenario Models
Robust scenario analysis and valuation tools help plan for the future across funds and companies enabling you to make better investment decisions.
Run scenarios at any degree of complexity, including next-round, exit, and pro-forma modeling across multiple fundraising rounds using EquityEffect's powerful waterfall engine.
Better plan your capital deployment and follow-on strategy for the future — roll up and run scenarios at the fund-level to evaluate potential future states for the fund.
Manage valuations in the platform keeping an accurate record of MTM valuations for each company, including internal and external marks.
Access EquityEffect-preferred accounting partners to initiate external valuations where needed (e.g., ASC820).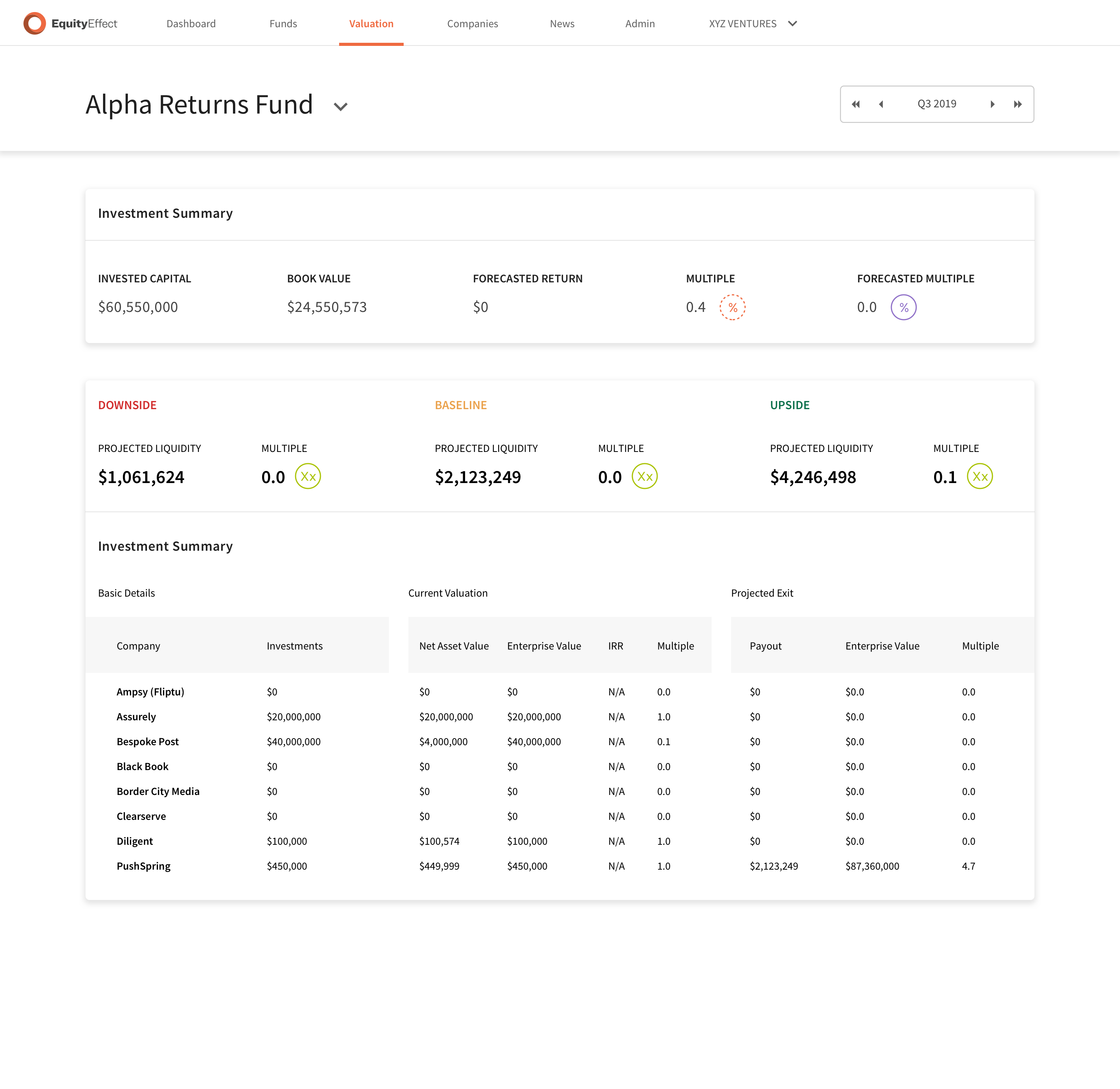 Streamline Communication with LPs
Communicate with your LPs at the click of a button. EquityEffect integrates with external data, including Crunchbase, your fund admin, and more to ensure that what you're seeing is always the latest and greatest.
Grant your LPs real-time access to the latest numbers, including capital account figures and performance for each fund they are invested in.
Communicate with LPs via secure data rooms to safeguard sensitive materials.
Share as much information with your LPs from the GP view as you see fit – from performance data to company KPIs, and more.